SURFACE WASTEWATER AERATOR TREATMENT SERVICES



Specializing in Floating Surface
Aerators for Wastewater Treatment
VaraCorp LLC specializes in floating surface aerators, municipal wastewater aerators, industrial wastewater surface aeration, farm wastewater aerator, aquaculture aeration, and wastewater aeration equipment.
Our aerators for wastewater treatment feature a unique turbine water aeration design.
More Dissolved Oxygen with Less Horse Power
Pontoons Guaranteed Not To Sink
Explosion of Oxygen Throughout the Lagoon
At VaraCorp, our team is excited to help agriculturists everywhere find energy-efficient ways to safely aerate their wastewater. Our surface wastewater aerator services can effectively aerate your wastewater so that you can avoid backups and accumulated debris or waste. Our treatments are designed with your business in mind so that you enjoy a quality customer service experience.
We take pride in our ability to connect with you on both a professional and personal level so that you can enjoy a surface wastewater aeration treatment that you will want to return to again in the future. With our help, we can ensure the health and safety of your wastewater removal processes. Our goal is to help you save time, money, and energy for all of your agricultural and engineering needs.
If you are ready to make a purchase with confidence, connect with our friendly team today. Read on to learn more about our surface wastewater aeration services and connect with us through our helpful contact page.
The Floating Surface Lagoon Aeration System
The floating surface lagoon aerator system is designed for open water municipal aeration and industrial aeration ponds or lagoons. The pontoon system is needed if water levels tend to rise or fall significantly. The pontoons consist of UV treated high density polyethylene jackets filled with closed-cell foam, guaranteed not to sink.
One of the keys to successful aeration is the retention time of the dissolved oxygen. Large bubbles, as seen with many competing aerators, tend to rise and escape to the atmosphere. The VaraCorp floating aerators for wastewater can produce a high percentage of bubbles that are so small as to be undetectable by the unaided eye.
Click Image Below To Enlarge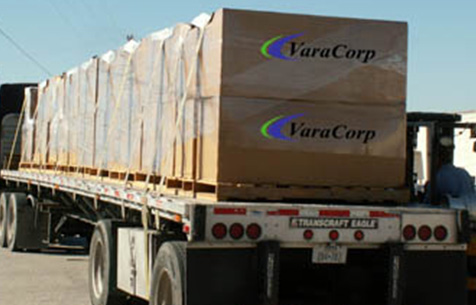 Anyone can sell you a piece of equipment. VaraCorp sells results. That is the reason a large percentage of our customers buy again and again.
VaraCorp Maintains a Large Inventory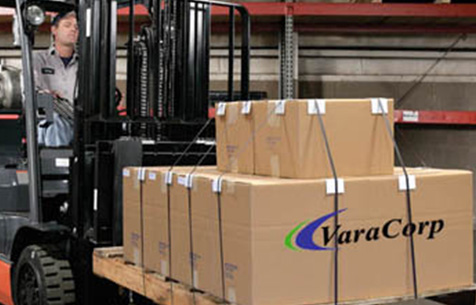 Due to our large inventory of surface aerators, we can normally ship in 3 to 5 days, depending on our shipment commitments.

VaraCorp's motors are custom-made in America by the Baldor Motor Company and by other manufacturers.

Our air shafts are made of 316 Stainless Steel with ¼-inch thick walls for longer life. Each shaft is tested for balance before shipment.

Large quantities of pontoons are stored for quick shipment. Each pontoon is tested and inspected for quality assurance.
Reputation For Reliable Performance
VaraCorp's floating aeration equipment requires no routine maintenance. There are no bearings to grease or floats to be checked. The pontoons are made of UV-protected polyethylene and are filled with closed-cell foam, guaranteed not to sink, even if punctured.
The motors are hazardous duty, industrial- grade, designed to run 24/7. The air shaft is made of a stainless steel tube that has a ¼-inch thick wall. The rotating turbine is made of nylon imbedded with fiberglass making it both corrosion and wear resistant. The aerator prefers to be left alone once it is turned on, i.e. no need for routine maintenance or inspections.